CLICK HERE to print out the flyer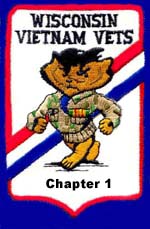 STATE BOARD MEETING
======
Hosted by Chapter 1
February 15th, 2014 - 10:30am to 2pm
American Legion Post 416
6351 W Grange Ave, Greendale, WI
Meeting Information
WVV Chapter One
Tim Baranzyk


Milwaukee County
Veteran Of The Year - 2014
Bill Goralski - Vietnam Veteran
Wisconsin Vietnam Vets Chapter 1

2013 Vets Banquet - War Memorial Center

Chapter One Officers
PRESIDENT
TIM BARANCYK


SGT.AT ARMS
LEON HOUSE


V-PRESIDENT
Ralph Bagneski


CHAPLAIN
DAVE FEARE
Claplain Emeritus - Ray Stubbe

SECRETARY
MIKE MALLOY


MEMBERSHIP
TERRY KIEFERT


TREASURER
BILL GORALSKI
414-543-9102

NEWS EDITOR
TIM BARANCYK


MEMBER AT LARGE
GLENN FIEBER


PARADE COORDINATOR

VETS BOARD DELEGATE
WVV WEB SITE
Jeff Doc Dentice


ALLIED VETS DELEGATES
Tim Haase-Glen Fieber
Ralph Bagneski-Rick Narlow
WVV 1 Meeting Date/Location
Chapter meetings are first Wednesday of the month @ Ray & Dots Legion Post
American Legion Post 416 @ 6:30pm
63rd & Grange Ave.
WVV Chapter 1 Email


19th Annual 2013 Raffle Calendar Winners


Veterans Winterfest 2013 - New Glarus, WI.

NOW THIS GOES BACK A FEW YEARS
Winterfest - Way Back When


CLICK ON THE BANNER'S ABOVE TO ENTER DOC'S VETS SERVICES PAGE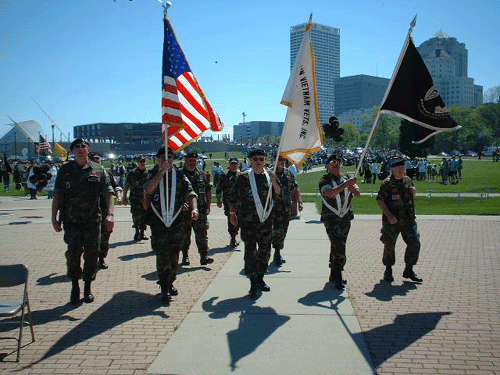 Chapter One at the Wisconsin POW-MIA Balloon Launch

VIETNAM VETERANS MEMORIAL MILWAUKEE WISCONSIN VETERANS PARK




Veterans Information
ID Cards - Burials - VA Priority Groups - Vet Centers -
DD-214 and more
Check out Doc's info page
28th Annual
January 16-19, 2014
WINTERFEST



WINTERFEST WEBSITE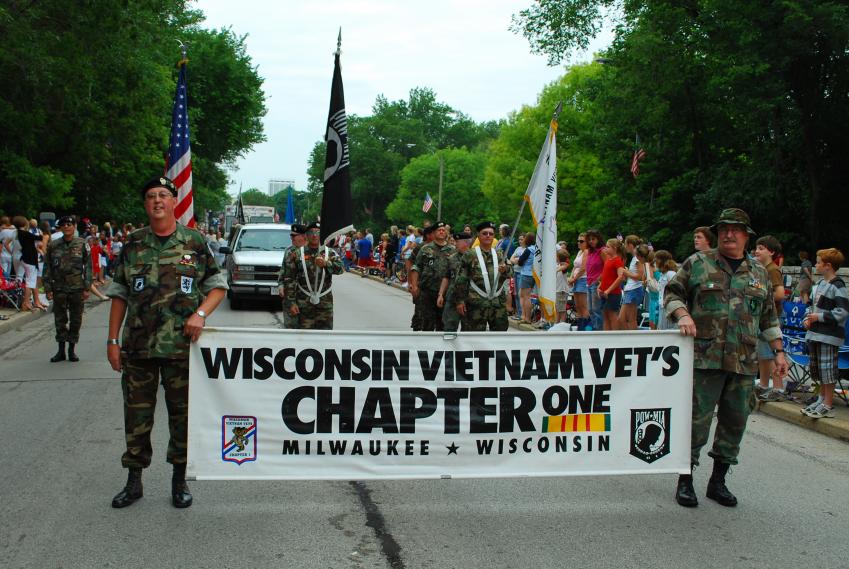 WVV POW-MIA Certificates
USE 8 1/2 X 11 BLACK FRAMES
IF YOU WANT ONE DONE WITH NAME ON IT AND SENT TO YOU
EMAIL DOC DENTICE



CLICK ON THE CERTIFICATE TO PRINT OUT

Fallen Warriors Project
Four Lakes Detachment of the Marine Corps League in Madison, WI.
Help them by purchasing one for your organization.
Each Org. can honor their hometown area Fallen Hero's by displaying this
Tribute and placing their names on a Special brass plate that come with the Statuette.
This tribute is available for any State.
Honor Family members from all Wars
TELL THEM DOC DENTICE SENT YOU



Arlington Park Cemetery 4141 S. 27th Street, Greenfield, WI
A memorial to Congressional Medal of Honor recipient, Lance Sijan which consists of a
replica F-4C fighter jet and a copy of Saijan's Medal of Honor citation. The memorial is located
near his gravesite. It was made a reality through generous contributions and was dedicated on 8 June 2003.
Next to the memorial is a replica of the gravestone that the North Vietnamese placed on his grave
while interred in Vietnam. The plaque next to it reads: "In Memoriam: This headstone is an exact replica
of the one that the North Vietnamese Army used to mark the gravesite for Captain Lance P. Sijan in
January 1965 when Lance's remains were first interred."
FOUNDER
WISCONSIN VIETNAM VETERAN'S
GARY G WETZEL


WVV INC. WEBSITE
By Jeff Doc Dentice

Click on Doc's Veteran's Events Page
If you have a Veterans Events flyer you want posted
Email Doc


All Upcoming Reunion's & Events

Sites Below Created By "Jeff Doc Dentice"